Africa RISE programme to host panel discussion on use of technology by MSMEs
News
09.02.22
Policy, dialogue, regional integration, and governance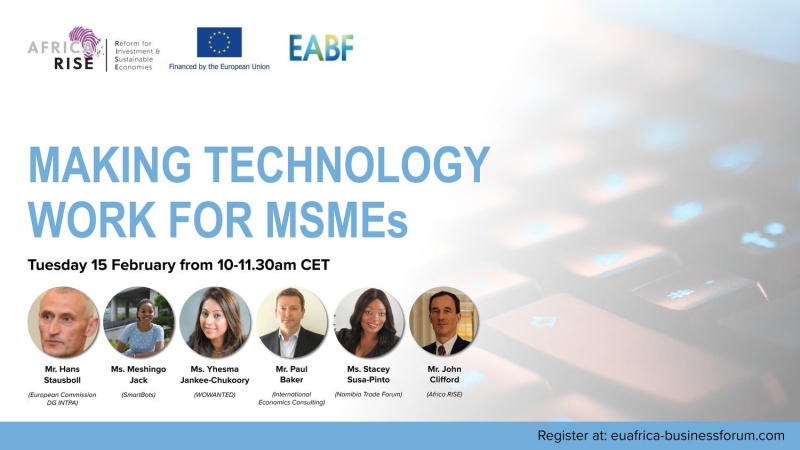 The EU Africa RISE (Reform for Investment and Sustainable Economies) programme, led by Landell Mills, is holding an online panel discussion as part of the EU-Africa Business Forum 2022, 'Making technology work for MSMEs'. The panel discussion will take place on the 15th February 10-11.30am CET, and will cover how accelerated implementation of technology and infrastructure enhance trade, job growth, investments and access to markets.
Panellists include: Mr. Hans Stausboll, Head of Unit from the European Commission's DG INTPA; Ms. Meshingo Jack from Africa RISE-supported organisation, SmartBots (Botswana Office of the President); Ms. Stacey Susa-Pinto from the Namibia Trade Forum; Ms. Yhesma Jankee-Chukoory from the WOWANTED platform for women entrepreneurs in Mauritius; and Mr. Paul Baker from International Economics Consulting. The discussion will be moderated by the Africa RISE Team Leader, Mr. John Clifford.
Following an overview of the European Commission's strategy for increasing investment and employment across Africa, which features the enabling role of digitalisation, panellists will discuss the power of technology as a tool that can improve access to markets for all businesses. Internet access and e-commerce are key tools that can help to consolidate fragmented local markets into larger regional markets, providing opportunities for small businesses across Africa to access a larger pool of potential customers. The panel will also discuss the importance of ensuring that women and socially disadvantaged groups have access to digital tools and the necessary training to benefit from them. Alongside this, the workshop will feature insights from projects undertaken by the EU-funded Africa RISE programme in Eastern and Southern Africa.
Launched in December 2020, EU Africa RISE is a demand-driven technical assistance facility funded the by the European Union and valued at EUR 12.7 million. Africa RISE supports inclusive and sustainable growth, job creation and decent work and promotes macro-economic policy and regulatory reform to create a business environment that encourages investment. The programme will run until December 2024. More information can be found on the Africa RISE website.
Register to attend the EU-Africa Business Forum here.