Three Highlights from Landell Mills' Projects Supporting Women
News
08.03.21
Timor-Leste
Gender equality
Many projects managed by Landell Mills' have a focus on gender equality and are working towards the UN's fifth sustainable development goal, achieving gender equality and empower all women and girls.
1. EU Delegation to Nigeria's Nationwide Gender Based Violence Film Competition
Landell Mills is organising an event to celebrate International Women's Day, in collaboration with UN Women and UNESCO, under the Landell Mills managed communications project, 'Technical Assistance to Improve EU Visibility in Policy Areas and Development Cooperation in Nigeria'. The event will celebrate the winners of the EU Delegation to Nigeria's nationwide Gender Based Violence film competition by screening a selection of prize-winning films, created by young filmmakers across Nigeria. The EU Ambassador and Head of Delegation, alongside ministers from the Nigerian government, will present prizes to the winning candidates. These winning films will also be screened as an open-air cinema experience for spectators in Abuja.
The ceremony will be held in the Presidential Villa on March 9th in honour of International Women's Day. The event will also feature the launch of UN Women's Gender Based Violence Barometer, and an awards ceremony for the winners of UNESCO's artwork competition, both of which share the EU video competition's focus on gender and sexually based violence in Nigeria. The President of Nigeria, EU and UN staff, Nigerian government ministers, celebrities and competition winners all expected to be in attendance. Current national COVID-19 protocols on public gatherings will be observed by all attendees.
2. Arab Women's Enterprise Fund (AWEF)
Landell Mills recently contributed to the international development community's knowledge and learning on Women's Economic Empowerment interventions by carrying out an evaluation of the Arab Women's Enterprise Fund (AWEF). AWEF was a DFID-funded 5-year programme, implemented by DAI Europe, that aimed to increase participation in markets, incomes, well-being and agency for poor women in Jordan, Palestine and Egypt (three countries with some of the lowest rates of female labour market participation in the world). The programme took a Market Systems Development approach, aiming to identify the barriers obstructing women's participation in target markets (e.g. digital financial inclusion, home-based businesses, manufacturing and food processing) and working to facilitate market system changes that could benefit women in terms of their access to opportunities, services and assets and their agency.
Based on the findings and conclusions of the evaluation, the Landell Mills team was able to make several important recommendations for future market systems programmes that specifically aim to empower women:
Future interventions should aim to increase women's participation in markets and their agency at the same time through complementary initiatives, given that evidence for increased participation leading to increased agency (or vice versa) is limited.

Men and boys should be actively engaged by women's economic empowerment and social norms change processes (particularly in the case of women's participation in family-run businesses).

Support for women's participation in sectors with traditionally high female participation should consider whether the market system change can:
I. provide a living wage/sustainable business for women involved;
II. enable female participation along the whole of the value chain (not just at the bottom); and
III. avoid market saturation of services and products traditionally produced and provided by women.
Donors should consider longer (7-10 year) and more flexible women's economic empowerment programmes in similar contexts to encourage implementers to attempt higher risk, more complex and innovative interventions.
You can read more about the AWEF Evaluation here.
3. Trainee Scheme to Support Women in Timor-Leste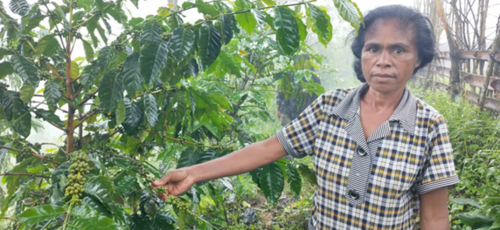 Landell Mills supported female farmer showing rejuvenated coffee tree from her plantation. Photo © Landell Mills.
As part of the 'Inclusive, Sustainable, and Connected Coffee Value Chain' project, funded by the Asian Development Bank (ADB), Landell Mills are implementing a trainee scheme to support rural women in Timor-Leste, which launched in October 2020.
The scheme, which hopes to tackle the barriers preventing women in rural areas of Timor-Leste from participating in the coffee value chain, is supporting five women in developing the skills needed to become coffee extension agents.
While women play a key role in the production of coffee, specifically through harvesting and processing the coffee cherries, they are often overlooked in the coffee value chain which is predominantly comprised of male farmers. The trainee scheme hopes to counteract this by generating more positive role models for rural women in Timor-Leste by employing women in extension agent positions within the coffee value chain, thus improving representation and empowering other female participants in the project.
The scheme features an active learning approach; trainees shadow local extension agents in Timor-Leste to see how they work with farmer groups within the community, benefiting from a mentor over a number of months, and observe work being done on the coffee value chain project. By developing trainees' skills, the trainee scheme is addressing the barriers to entry and has resulted in two of the trainees being employed within the project team in full-time extension agent roles.