Landell Mills improves the conditions for widening rural energy access in Kenya and Uganda
News
25.10.16
Kenya
Green economy
Landell Mills has developed a series of Energy Compacts between DFID and national governments in Africa as part of the initiative to help Africa achieve universal energy access by 2030. So far, we have developed Energy Compacts for Kenya and Uganda through a consultative process involving key stakeholders from government, the solar industry, the financial sector, NGOs, civil society and the donor community.
There are currently more than 600 million people in Africa who do not have access to electricity, and cannot get the enormous benefits that modern energy services provide. The UK's Energy Africa campaign, launched in 2015, seeks to accelerate the market for solar home systems by improving market conditions through coordinated donor support to governments and industry.
The Energy Compacts define the coordinated support in each specific context between DFID and national governments. This support will improve the enabling environment and accelerate the market for off-grid solar expansion, widening access to electricity for rural populations. If the current trajectory continues, it will take until 2080 for there to be universal electricity access on the continent.
While grid extension is an objective for many national governments, it will be costly and take decades to reach the most remote rural populations. In the meantime, off-grid electricity solutions - and particularly solar home systems - are becoming a more affordable, reliable and accessible solution. This is partly due to the fall in the price of solar photovoltaic panels, more efficient appliances such as LED lighting, and the increase in mobile payment systems such as pay-as-you-go.
As stated by DFID, the Energy Africa campaign will:
overcome financial hurdles and the series of market failures that are preventing firms from raising capital by testing new approaches and reaching the poorest
overcome the policy and regulatory barriers to household energy access, for example by drawing African countries into the compact to accelerate clean energy access
make the most of exciting developments in research and innovation
position this campaign within broader global efforts to ensure access to affordable, reliable and sustainable energy for all
Please click here for more information.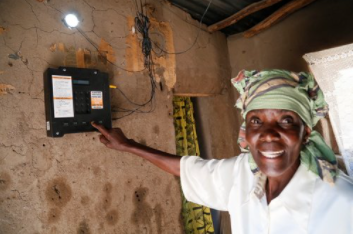 PICTURE: FLICKR. RUSSELL WATKINS/DEPARTMENT FOR INTERNATIONAL DEVELOPMENT. ELIZABETH MUKWIMBA IS A 62-YEAR-OLD WOMAN WHO NOW HAS SOLAR LIGHTING AND ELECTRICITY IN HER HOME AT THE FLICK OF A SWITCH, THANKS TO A SCHEME BACKED BY UK AID. ELIZABETH HAS HAD AN M-POWER SOLAR PANEL AND LIGHTS FITTED IN HER HOME BY OFF GRID ELECTRIC, A PRIVATE SECTOR COMPANY DEDICATED TO PROVIDING SUSTAINABLE, AFFORDABLE ENERGY TO PEOPLE IN DEVELOPING COUNTRIES WHO AREN'T CONNECTED TO THE ELECTRICITY GRID.