Landell Mills retains its ranking within the top five consulting firms winning contracts funded by the Asian Development Bank
News
10.11.22
Agriculture, fisheries, food security and nutrition
Fund/grant management
Urban development
Company news
Infrastructure
We're pleased to once again be ranked within the top five UK consulting firms winning contracts funded by the Asian Development Bank (ADB). Landell Mills has remained in second place after previously being ranked in March 2018. Details are included in the Asian Development Bank and the United Kingdom: Fact Sheet.
Compiled by the ADB, the list is titled Top 5 Consultants from the United Kingdom Involved in Consulting Services Contracts under ADB Loan, Grant, and Technical Assistance Projects, 1 January 2017–31 December 2021. Between 1 January 2017 and 31 December 2021, Landell Mills Ltd. was awarded $20.77 million in ADB contracts across sectors including agriculture, natural resources, and rural development; finance; and water and other urban infrastructure and services.
Landell Mills and the ADB have worked together since the 1980s, with Landell Mills providing technical assistance to ADB-funded projects. You can view further details of our work with the ADB on the Landell Mills website.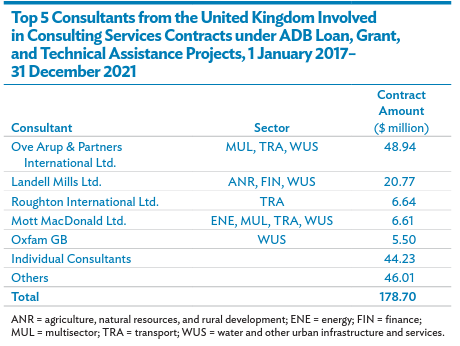 Image from the 'Asian Development Bank and the United Kingdom: Fact Sheet'