Landell Mills supports fisheries exports from the Seychelles
News
14.01.20
Seychelles
Agriculture, fisheries, food security and nutrition
Landell Mills has successfully completed the management of a six-month, EU-funded contract supporting the strengthening of fisheries exports in the Seychelles. The project, which is funded under the EU TradeCom II programme, involved Landell Mills working closely with the Seychelles Fisheries Authority and the National Biosecurity Agency to strengthen fisheries exports and help fishermen to meet standards for entry into the EU market.
The project targeted a diverse range of groups from the industrial and artisanal fisheries sectors and the Seychellois government institutions in charge of ensuring compliance with Sanitary and Phytosanitary (SPS) measures. The project also targeted fishermen with limited English skills and developed methods and instructive manuals that are suitable for a range of nationalities.
Many useful lessons were learnt especially for safe handling and storage of particular tuna species that are landed onto semi-industrial vessels. Further results include raising awareness among a diverse range of beneficiaries of fisheries-related Rules of Origin. In particular, the training workshops that were organised under the contract were greatly appreciated by the beneficiaries and it is hoped that this knowledge will contribute to expanding opportunities for exporting fish.
The Final Workshop for the project took place on Mahé Island on 27-28 November 2019 and was attended by representatives from the beneficiaries and TradeCom II, as well as Seychelles trade policy makers, representatives from targeted fisheries associations, the private sector and local media. The workshop provided the opportunity for relevant stakeholders to take ownership of the outputs of the project and for the project team to share lessons learned and provide recommendations.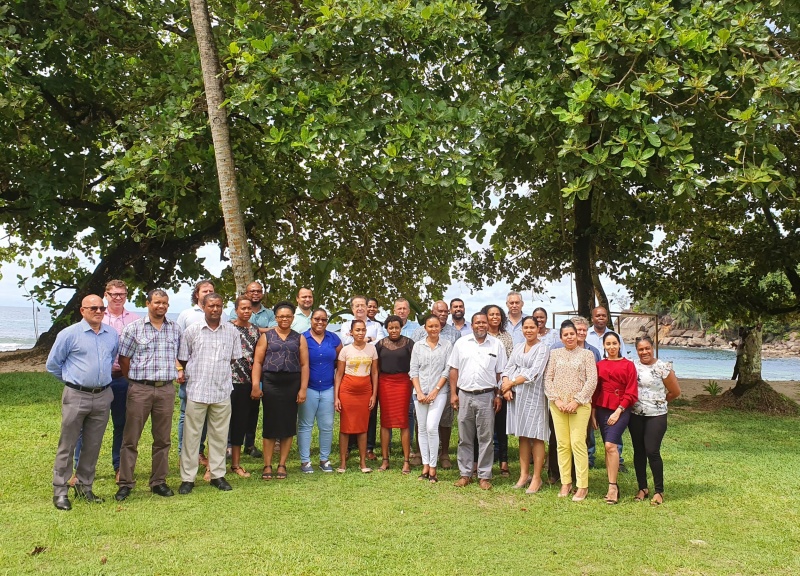 Participants at the Final Workshop, Mahé Island, November 2019
A project video showcasing the main results and lessons learned was presented at the Workshop and can be viewed below: