Landell Mills organises quality management workshop in Zanzibar
News
24.07.17
Tanzania
Training and capacity building
Landell Mills has delivered a workshop for Zanzibar trade support institutions involved in the quality management of agricultural based food products.
The workshop was organised in collaboration with the Zanzibar Ministry of Trade, Industry and Marketing (ZMTIM), which supports businesses in meeting export requirements for products such as seaweed, spices, fruits and vegetables. Landell Mills brought together a number of institutions at the event, including the Zanzibar Bureau of Standards and the Zanzibar Export Association (ZEXA).
During the workshop, participants discussed the guide to Managing Product Quality in the Zanzibar/Pemba Export Corridor, which has been produced by Landell Mills in close collaboration with the ZMTIM. The guide provides Zanzibar's trade support institutions with advice on how to assess their product quality environment, identify shortcomings, and limit factors and gaps. It aims to enable the institutions to provide better support to farmers, producer associations and exporter organisations, in order to overcome trading bottlenecks, and have greater access to new markets, particularly those in the EU.
The event was delivered as part of a project entitled 'Targeted Support to REPOA and Zanzibar Ministry of Trade, Industry and Marketing to Increase the Competitiveness of Primary Producers and diversify the Export Base in Light of Trading Opportunities with the EU'. The project is being funded by the European Union and managed by Landell Mills through the EU ACP TradeCom II Programme.
In 2016, Zanzibar GDP grew by 6.8%. The three sectors that registered growth were agriculture, forestry and fishing, industry, and the services sector.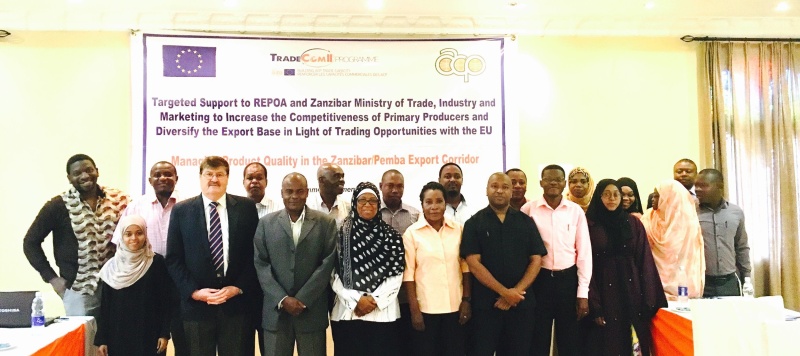 PARTICIPANTS AT THE WORKSHOP ON QUALITY MANAGEMENT FOR ZANZIBAR TRADE SUPPORT INSTITUTIONS, WHICH WAS ORGANISED BY LANDELL MILLS